customer centricity
Customer Centricity is business speak you can't ignore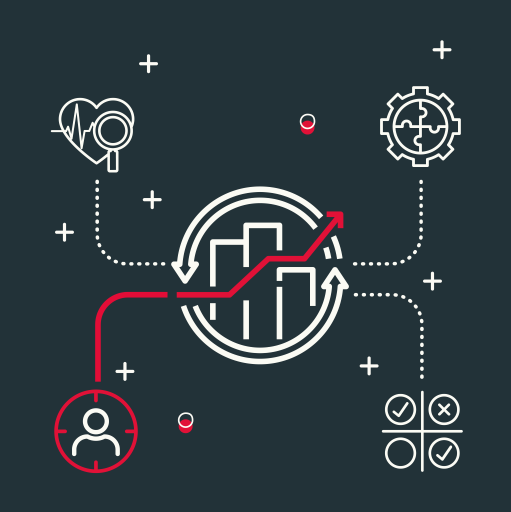 Daniel Hall discusses the key findings of the recent Horizon research on long-term sustainable growth by Cognosis. What do they reveal about the power of customer centricity? And what steps can companies take to put customer needs at the heart of their strategy.
90% of companies put customer needs at the heart of their strategy
But only 14% of business leaders believe their organisations are customer centric
Industry leaders in NPS deliver almost 3x higher total shareholder return, compared to the stock market average.
If you had to list the most common business clichés, then customer centricity would be right up there, alongside low-hanging fruit and pushing the envelope. As a wallpaper phrase, customer centricity trips off the tongue. It sounds warm and fuzzy, easy and obvious. Who wouldn't want to put the customer first? This off-hand attitude to customer centricity is a problem, because its real meaning and huge potential for sustainable growth can be lost in translation.
Nearly all companies state that customer centricity is a priority. According to research, nine out of 10 companies know that they should put the customer needs at the heart of their business strategy. They see customer experiences as a source of competitive advantage. But when pressed, only 14% of business leaders are prepared to claim that their companies truly focus on the customer.
There is a yawning gap between aspiration and reality, which amounts to missed opportunities, because customer centricity is proven to deliver stout financial returns. Research has shown that industry leaders in Net Promoter Scores (NPS) gain almost three times higher total shareholder return, compared to the stock market average.
Put plainly: everybody knows they need to be more customer focused, but deep down, only a very small percentage know they are actually doing it well. Get right, however, and you will grow your business much faster.
By quantifying the performance of 100 successful companies over a 15-year period, our research identified four key drivers for sustainable growth. Firstly, companies need to have a purpose. They must be customer centric, adaptable and, finally, future focused. Of these golden ingredients for success, customer centricity was shown to be the one that can move the needle the quickest. Therefore, it should be the first to change.
"Customer centricity is the single biggest behavioural contributor to improving financial performance over the long term."
What is customer centricity – and how do you do it?
True customer centricity is not just being responsive to customer needs, but proactively anticipating and then setting out to satisfy their future needs. In other words, working out what your customers want tomorrow (before they do themselves) and then bringing it to market (before and/or better than your competitors).
Don't confuse customer centricity with customer awareness/focus. It takes more than thinking from your customers' point of view. Truly customer-centric organisations obsess about exceeding their customers' current and future expectations. Their culture puts customer needs at the core of decision making and execution – across all functions. It becomes automatic to ask: "What next for our customers?"
At Cognosis, our consultants work closely with clients to make customer centricity a filter throughout their business.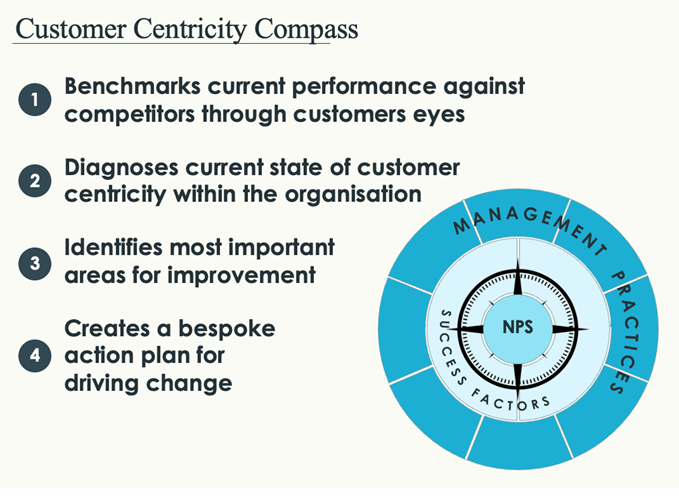 The first step is to understand your current state of centricity. Set the baseline for improvement and benchmark your performance against competitors. This allows you to identify the most important areas for change. You can then create a strategic plan of action to proactively satisfy the needs of your customers, working across five success factors: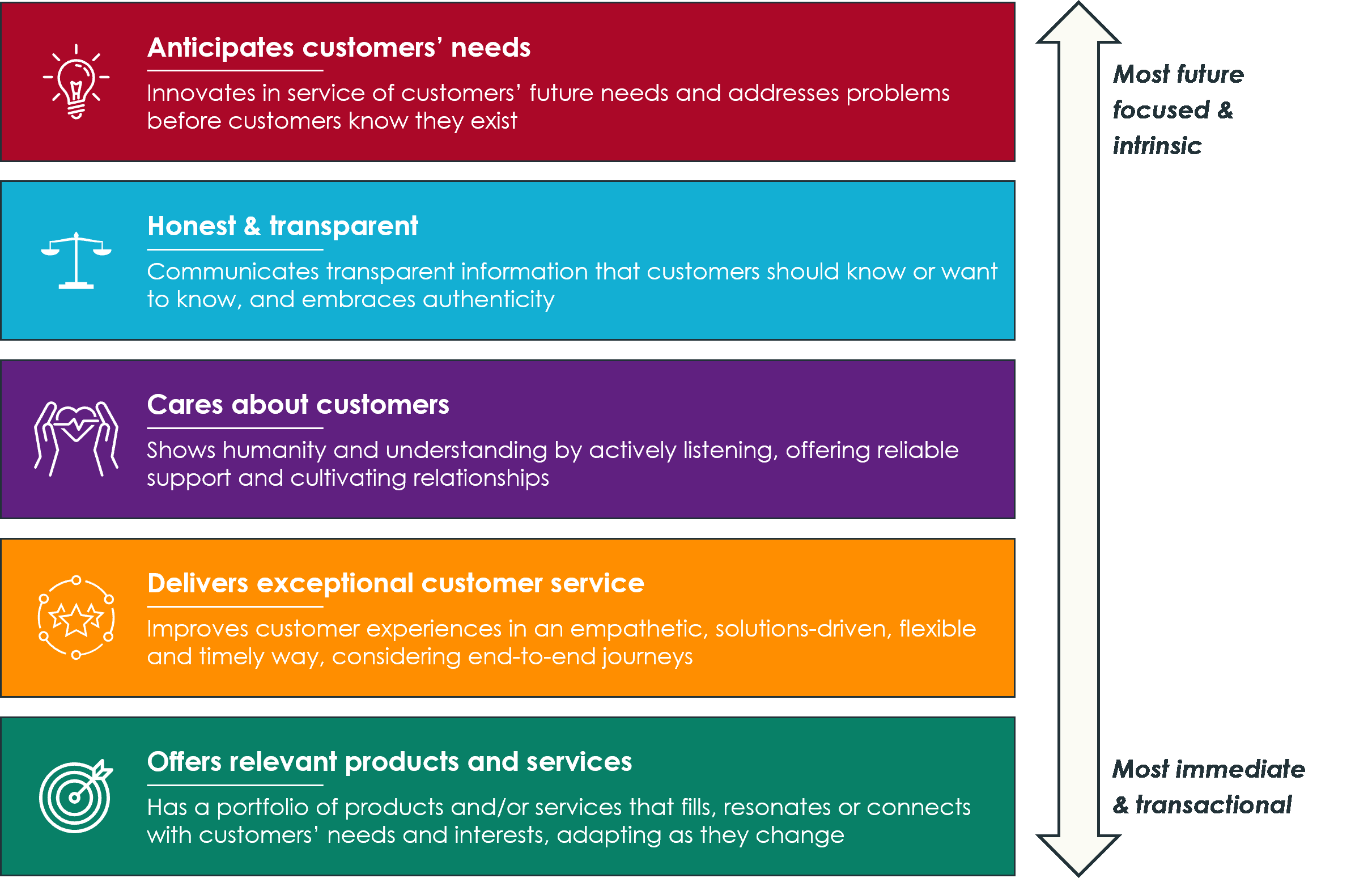 The next step is doing the do. By using the right management practices and behaviours – across purpose and strategy, leadership and culture, data and insight, structure, process and commercial execution – you can make delivery of customer value central to the whole organisation.

The final component is NPS, which is a simple and universally recognised benchmark for showing how satisfied your customers are versus your competition, and then tracking and monitoring your recent improvements in customer centricity.
Should every business be customer centric?
The short answer is… yes. Whether you're a B2C, B2B or B2B2C company, the question is the same: Can you sell goods or services that are more focused on your customer or consumer needs than your competitors?
Maintaining customer centricity can prove especially difficult as companies grow. How much time do senior executives spend with their customers? It's easy to drift further away from the customer and become sclerotic, instead of adaptive. Decisions are made solely from a financial point of view, rather than starting with the customer need or problem to solve. Or there could be an overwhelming number of voices in the business calling for change. Where do you start? Which management practices will gain the quickest dividends?
The case for customer centricity may be compelling, but that doesn't make it a quick fix. Cultural transformation will pull on many different aspects of your business. It requires tough leadership and management bravery to disrupt business as usual and put noses out of joint. You need to demand wholesale changes, even when everything is going 'ok'. Inviting the customer to take the helm, rather than rely on your own instincts, is a scary step into the unknown.
But dismissing customer centricity as yet another buzz phrase is a dangerous mistake. Get it right and there is a huge prize waiting. Bring the unmet needs of the future to market first, and you have cracked the code for sustainable growth. It's time to grasp the cliché.
The Sustainable Growth Index by Cognosis correlates the behavioural and cultural traits of 1,400 listed companies. The companies that focus most on the customer have outperformed their competition over 15 years.

Companies that combine purpose and customer centricity see the largest gains in long-term sustainable growth. Matching a customer-centric culture with a powerful growth strategy unlocks optimised total shareholder return.

Working closely with industry-leading corporations, our consultants create bespoke and targeted action plans for building a customer-centric culture. Discover how we can help drive sustainable growth in your organisation.
Strong leadership turns customer centricity into sustainable growth
If customer centricity is comfortable, then you're not doing it right...
Busting the 5 myths of customer centricity
To learn more about customer centricity for your business, please get in touch with Daniel Hall: